5 Quick Tips for a Successful Video Job Interview
06/04/2020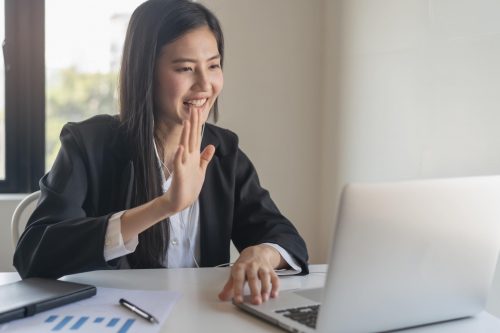 A Traditional Job Interview but with a Twist
Have you ever had a video nightmare where you thought you turned the camera off but you didn't realise your microphone was still going? You've started singing tone deaf at the top of your lungs before you realise that everyone can still hear you? 
In recent times we have seen a massive increase in managers and recruiters using online interviews as an initial screening tool. The thought of talking on camera can be daunting for many job seekers, even for those from our technology generation 'Gen Z'. However, times are changing, and the integration of technology into modern recruitment practices is something we can no longer avoid.
It goes without saying that job seekers can expect an increase in video interviews, especially while we navigate ourselves through alert level 4 and other covid-19 response measures such as working from home. Instead of letting the thought of speaking on camera put you off accepting an interview, check out our First Base top tips below:

Do your Research
Firstly, do your research on the company. You need to find out as much out about the company in question as you can. A good place to start having a look on the company's website. From there you should also explore other avenues such as online news articles and speaking to people you know who work there. A common question employers ask in interviews is "so what do you know about us?". Secondly, prepare notes to help you remember key information. These could be placed around your screen as prompts but keep them brief so you don't find yourself staring at them.
Know your Why
You applied for this position for a reason- why? Sometimes our motivations behind career changes are quite ambiguous so it's important that we unpack why. Start by thinking about what enticed you to apply for the role in the first place. Is it something you'd be good at? Does it sound like a challenge? Also think about what you do and do not like about your last/current role. Knowing this information will help you feel more confident and more at ease.
Dress to Impress
This doesn't change because you're interviewing from home. You need to present yourself as you would if you were going to a face to face interview. That means dressing in appropriate attire and applying the same level of personal grooming you would have if you were to meet in person. By ensuring you look and feel immaculate, it will help you get in the right head space. It's easy to find yourself too comfortable because you're in your own home.
Do a Test Run
Firstly, find out the proposed channel you'll be conducting your interview over and make sure you do a test run with a friend or family member. You'd hate to leave your potential employer waiting while you figure out why your computer doesn't support that particular software or why your camera isn't hooked up. Secondly, it's all about camera placement! Ensure your cameras at a level that promotes good eye contact and prevents unflattering angles. Remember, first impressions always count!
Suss your Background
The key to a good background is simple. You want to create a clean space that has as little clutter as possible. Otherwise it might distract the interviewer and the focus should be on you. When performing the test run, don't forget to assess your lighting too. You want to make sure that the interviewer can see your face clearly. You should also test for natural light and avoid any shadows. You don't want to be talking to the interviewer out of a dark room.